Elegant Themes is one of the premier WordPress theme selling websites. Some of the greatest thing about there themes besides the price is how customizable they are. Most of there themes are built on the same platform so getting use to them is really simple if you are a web developer. As of today they have some outstanding numbers price wise, customer wise, and amount of themes. For an amazing price of $39 you get 77 themes and growing. That is $0.50 per theme. They also have an amazing 130,054 customers using there themes. With the $39 purchase you get access to all of there great themes.
The Themes
Elegant Themes has themes for everything they have 10 themes for Apps, 28 for Blogs, 24 for Businesses, 2 for eCommerce, 21 great Magazine, 13 for Multimedia, 21 for Personal, 10 great for Portfolios, 10 Responsive themes, and 3 Tumblog. With my subscription I have use around 15 of the themes. Chameleon, DeepFocus, Aggregate, Flexible, eStore, and Evolution are amazing themes. They also have a bunch of great free stuff you can find on there blog.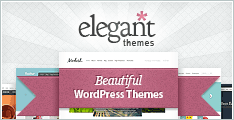 If you would like to now more about Elegant Themes please head over there. Also if you have any questions about there themes please feel free to leave a comment and I will get back to you.